It's been a pretty busy week for me this past week. Between work and having to go to doctor's appointments, I'm surprised that I managed to get anything done crafting wise. But I've got some progress done on a few of my projects, but I'll be only talking about one in today's post.
I've been working on the Antler Hat by Tin Can Knits today and I'm having fun with it, I love me some cables! I'm currently working on the adult large size for Jordan but I will be making all of the sizes as well, one for Jordan and I and then putting away the children sizes away for future baby (Hopefully!) I'm knitting it up on US 5- 3.75mm for the ribbing and US 7- 4.5mm and out of Knit Picks Brava Worsted in the Cobblestone Heather colorway, that is left over from my
Heliopath Vest
. Jordan doesn't even know that this hat is for him, but he has seen me working on it. I'm hoping to have it done soon as a Valentine's gift since his birthday is only a few days away. (January 17th) Here's a close up of the hat:
The book that I've been reading is Halo by Alexandra Adornetto.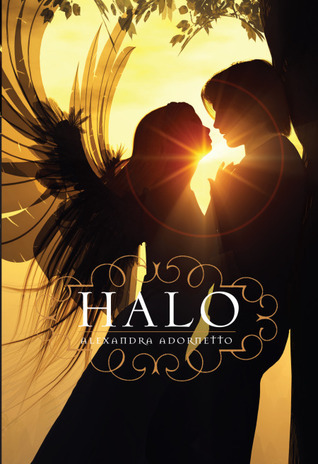 Image from Goodreads.com
I had read this book back in high school and had really enjoyed it. This re-read is going pretty quickly. It's definitely an easy read. I did run across a knitting reference in my daily chapter reading.
"You can help me in a minute. I have a whole lot of hats and scarves to knit for the thrift shop." Ivy always found time to connect with the community, through small earthly tasks. "Sometimes it's the little things that count most," she said.
"You know, the whole idea of those places is that you donate your old clothes, not make new ones," I teased.
I hope everyone has a great week and that it's full of happiness and love.